Greetings, ${pageContext.request.contextPath}
Selection of Strip Heaters for Air Heating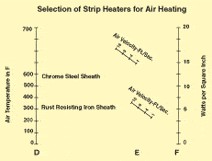 Select maximum desired operating air temperature on (D)
Choose either chrome steel sheath or rust-resisting iron sheath (points E) on basis of operating conditions
Draw straight line through points (D) and (E) to reading on (F) giving maximum allowable watts per square inch
Select desired length heater with equivalent watt density or less
Selection of Strip Heaters for Clamp-On Applications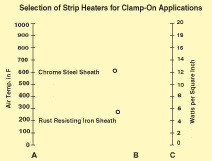 Select maximum desired work temperature on (A)
Choose either chrome steel sheath or rust-resisting iron sheath (points B) on basis of operating conditions
Draw straight line through points (A) and (B) to reading on (C) giving maximum allowable watts per square inch
Select desired length heater with equivalent watt density or less
Selection of Watt Density for Finned Strips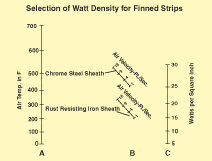 Select a maximum desired air temperature on A
Choose sheath material to suit operating conditions
Select minimum anticipated air velocity on B. Note: Natural circulation is equal to one foot per second
Draw straight line through the points selected on A and B - read C for allowable watt density
Select required length heater with equivalent watt density or less


When high operating temperatures are needed, watt density must be limited in order not to exceed the maximum sheath temperature. Watt density is given in the "How To Order" table for each strip heater. In general, a viscous material with low thermal conductivity requires a low watt density. High watt densities can be used with thinner liquids and with materials of high thermal conductivity. Premature loss of the element due to excessive temperature may result if the material's heat-take-away ability is low. Also, the material may be charred, carbonized or its chemical makeup altered by overheating.other derived quantities, e.g., moments, pressures, accelerations, displacements, vibrations and others. The transducer generally contains a pressure sensitive diaphragm with strain gages bonded to it.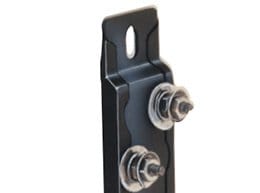 Types of Strip Heaters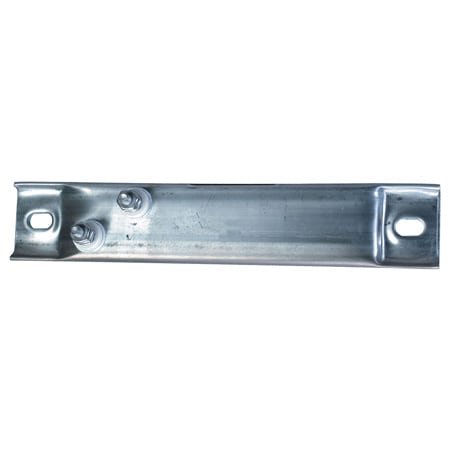 Ceramic Insulated Strip Heaters
Heat Strips Stainless steel HCS series heat belts provide clean, reliable heat with duct temperatures up to 649 ° C (1200 ° F) and a power density of up to 40 W per square inch. Thanks to their seamless stainless steel sheath, these ceramic insulated heating strips retain their original dimensions in milled slots.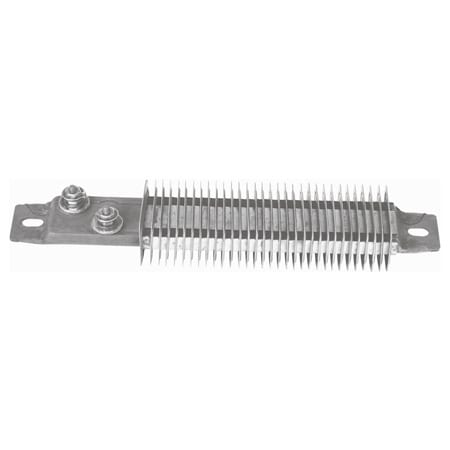 Finned Heating Strips
A high quality nickel-chromium tubular resistance wire is uniformly distributed over the entire width and length of the finned band element, then embedded in a high quality refractory material which insulates the wire and transfers quickly heat. The refractory is then strongly compressed with maximum density under high hydraulic pressures to improve heat transfer from the coil to the sheath. The elements are baked at high temperature in order to semi-vitrify and prepare the refractory. The material of the sheath is either a corrosion-resistant iron or chromed steel. Aluminized steel fins are provided to enhance this transfer to air. The elements are replaceable individually.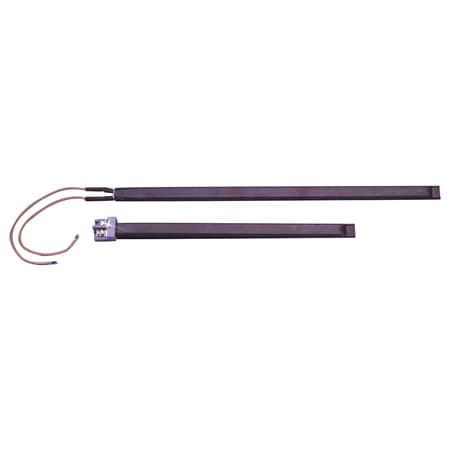 Incoloy seamless duct heating
The NS Series offers heating strips for high temperature applications. The design, materials and construction of the heating element allow longer life for certain power densities. The Incoloy sheath contains a nickel-chromium resistance wire embedded in a dense refractory material, selected for its dielectric insulation value and good thermal conduction to the sheath. Reduced cross-sections are often an advantage when space is involved.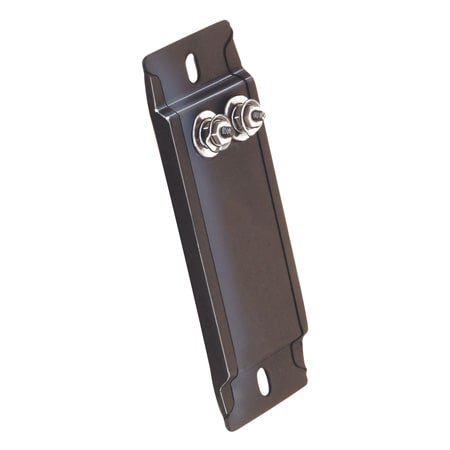 Wide Strips
The WS OMEGALUX ™ Series has 2 terminals at right angles at one end. A standard width of 6.4 cm (2.5 inches) makes them ideal for most hot strip applications.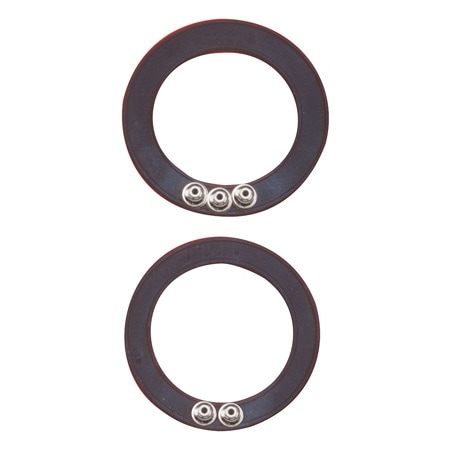 View this page in another language or region