text.skipToContent
text.skipToNavigation
E Type Thermocouple Duplex Wire
Thermocouple Wire - E Type, Duplex Insulated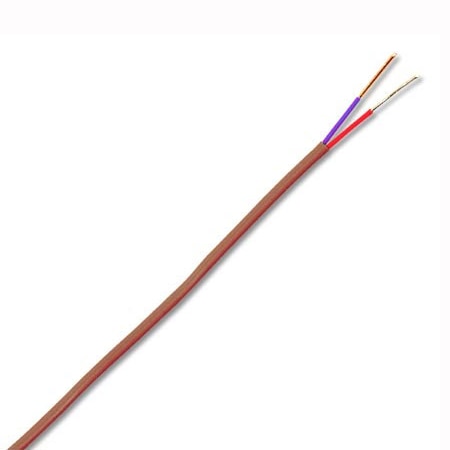 Item# GG-EI-30-SLE-150M
Added to Your Shopping Cart
Configuration complete.
Please add to cart to keep it or exit the configuration
Failed to Save Configurations, Click on Configure Button Start Again
Lead Time (If not in stock):
2 weeks
High Quality Type "E" Thermocouple Grade Wire
In Stock - Available for Immediate Shipment
Choice of Insulation, Wire Gage, & Length
GG-EI-30-SLE-150M Model Options
View all models
Edit these specs to order a different model. Not all combinations are valid. Options compatible with previous selections will be in bold.
*Highlighted options are not compatible. Please select a different combination.
Thermocouple Calibration Type
Color Code Standard

Positive Wire: Purple

Use With Sensor Type

Thermocouple
ANSI Color Code: Positive Wire, Purple Negative Wire, Red Overall, Brown
Insulation1
AWG

Model

Type

Insulation
Max. Temp
Nominal
Size
Wt.†
lb/1000'
No.
Number
Wire
Conductor
Overall
°F
°C
Ceramic*
14
XC-E-14
Solid
Nextel Ceramic
Nextel Ceramic
1200
650
.140 x .200
38
20
XC-E-20
Solid
Nextel Ceramic
Nextel Ceramic
1000
540
.135 x .190
16
20
XT-E-20
Solid
Nextel Ceramic
Nextel Ceramic
1000
540
.105 x .155
15
20
XL-E-20
Solid
Nextel Ceramic
Nextel Ceramic
1000
540
.095 x .135
14
24
XC-E-24
Solid
Nextel Ceramic
Nextel Ceramic
800
430
.115 x .175
12
24
XT-E-24
Solid
Nextel Ceramic
Nextel Ceramic
800
430
.088 x .132
11
24
XL-E-24
Solid
Nextel Ceramic
Nextel Ceramic
800
430
.078 x .116
10

Silica*
14
XS-E-14
Solid
Silica
Silica
1200
650
.140 x .200
35
20
XS-E-20
Solid
Silica
Silica
1000
540
.105 x .155
12
24
XS-E-24
Solid
Silica
Silica
800
430
.088 x .132
10
High
Temp.
Glass**
20
HH-E-20
Solid
High Temp. Glass
High Temp. Glass
1000
540
.060 x .105
9
24
HH-E-24
Solid
High Temp. Glass
High Temp. Glass
800
430
.055 x .090
5
Glass
20
GG-E-20
Solid
Glass Braid
Glass Braid
900
482
.060 x .095
9
20
GG-E-20S
7 x 28
Glass Braid
Glass Braid
900
482
.060 x .100
9
24
GG-E-24
Solid
Glass Braid
Glass Braid
800
430
.050 x .080
5
24
GG-E-24S
7 x 32
Glass Braid
Glass Braid
800
430
.050 x .085
5
26
GG-E-26
Solid
Glass Wrap
Glass Braid
800
430
.045 x .075
4
30
GG-E-30
Solid
Glass Wrap
Glass Braid
700
320
.045 x .070
3
36
GG-E-36
Solid
Glass Wrap
Glass Braid
700
320
.045 x .070
2
Glass with
Stainless Steel
Overbraid
20
GG-E-20-SB
Solid
Glass
SS Braid Over Glass
900
482
.090 x .120
14
20
GG-E-20S-SB
7 x 28
Glass
SS Braid Over Glass
900
482
.090 x .127
15
24
GG-E-24-SB
Solid
Glass
SS Braid Over Glass
800
430
.085 x .117
11
24
GG-E-24S-SB
7 x 32
Glass
SS Braid Over Glass
800
430
.080 x .110
11
Kapton
Polymide
Tape
20
KK-E-20
Solid
Fused Polymide Tape
Fused Polymide Tape
500
260
.060 x .100
11
24
KK-E-24
Solid
Fused Polymide Tape
Fused Polymide Tape
500
260
.050 x .075
6
30
KK-E-30
Solid
Fused Polymide Tape
Fused Polymide Tape
500
260
.040 x .055
5
Neoflon
PFA
(HighPerformance)
20
TT-E-20
Solid
PFA
PFA
500
260
.068 x .116
11
20
TT-E-20S
7 x 28
PFA
PFA
500
260
.073 x .126
11
22
TT-E-22S
7 x 30
PFA
PFA
500
260
.065 x .133
9
24
TT-E-24
Solid
PFA
PFA
500
260
.056 x .093
6
24
TT-E-24S
7 x 32
PFA
PFA
500
260
.063 x .102
6
30
TT-E-30††
Solid
PFA
PFA
500
260
.024 x .040
2
36
TT-E-36††
Solid
PFA
PFA
500
260
.019 x .030
2
40
TT-E-40††
Solid
PFA
PFA
500
260
.017 x .026
2
PFA Polymer
w/Twisted
and Shielded Conductors
20
TT-E-20-TWSH
Solid
PFA
PFA Polymer and Shielding
500
260
.15
20
20S
TT-E-20S-TWSH
7 x 28
PFA
PFA Polymer and Shielding
500
260
.15
20
24
TT-E-24-TWSH
Solid
PFA
PFA Polymer and Shielding
500
260
.11
9
24S
TT-E-24S-TWSH
7 x 32
PFA
PFA Polymer and Shielding
500
260
.12
9
Neoflon FEP
20
FF-E-20
Solid
FEP
FEP
392
200
.068 x .116
11
24
FF-E-24
Solid
FEP
FEP
392
200
.056 x .092
6
FEP Polymer
w/Twisted
and Shielded Conductors
20
FF-E-20-TWSH
Solid
FEP
FEP Polymer and Shielding
392
200
.15
20
20S
FF-E-20S-TWSH
7 x 28
FEP
FEP Polymer and Shielding
392
200
.15
20
24
FF-E-24-TWSH
Solid
FEP
FEP Polymer and Shielding
392
200
.11
9
24S
FF-E-24S-TWSH
7 x 32
FEP
FEP Polymer and Shielding
392
200
.12
9
TFE Tape
Polymer
20
TFE-E-20
Solid
TFE Tape Polymer
Fused TFE Tape Polymer
500
260
.060 x .100
11
20S
TFE-E-20S
7 x 28
TFE Tape Polymer
Fused TFE Tape Polymer
500
260
.060 x .105
11
24
TFE-E-24
Solid
TFE Tape Polymer
Fused TFE Tape Polymer
500
260
.050 x .075
6
24S
TFE-E-24S
7 x 32
TFE Tape Polymer
Fused TFE Tape Polymer
500
260
.050 x .085
6
Polyvinyl
24
PR-E-20
Solid
Polyvinyl
Polyvinyl
221
105
.050 x .086
5
*Has color tracers on jacket and conductors
**Has color tracers on jacket and positive leg only
†Weight of spool and wire rounded up to the next highest lb. (does not include packing material).
††Overall color clear
More Related Items
Related Categories