There are multiple types of pressure transducers for a variety of applications. Whether you are looking for a general purpose transducer, compound pressure transducer, or a high accuracy pressure transducer there are a few factors you need to conside to make sure you get the right one for your use case.

Each pressure transducer has different aspects that will impact how it works and the applications the pressure transducer works best for. When selecting a pressure transducer, keep these five criteria in mind:
1. Application and measurement type
Common type of pressure measurement include: Absolute, gauge, differential, vacuum, bidirectional, and sealed gage.
2. Pressure range
Probably the single most important decision in selecting a pressure transducer is the range. One must keep in mind two conflicting considerations:

The instrument's accuracy and its protection from overpressure. From an accuracy point of view, the range of a transmitter should be low (normal operating pressure at around the middle of the range), so that error, usually a percentage of full scale, is minimized.

On the other hand, one must always consider the consequences of overpressure damage due to operating errors, faulty design (water hammer), or failure to isolate the instrument during pressure-testing and start-up. Therefore, it is important to specify not only the required range, but also the amount of overpressure protection needed.
3. Process media
The process fluid that is going to be measured should guide your decision as well. Often referred to as the "wetted parts," these materials should be selected for their compatibility with fluid being measured. For environments with clean dry air, just about any material is permissible. However, for conditions using sea-water, high nickel content alloys such as INCONEL® alloy 718 (UNS N07718) should be considered. Other common materials include 316 Stainless steel and 17-4 Stainless steel. Also, if a sanitary fitting is required should be considered.
4. Temperature range and installation environment
Extremes in temperature or vibration will limit what transmitters will function properly. For temperature extremes, thin-film technology is superior. The extreme temperatures also create errors in the output of the transducer. The error is often expressed in percent full scale over 1°C (%FS/°C).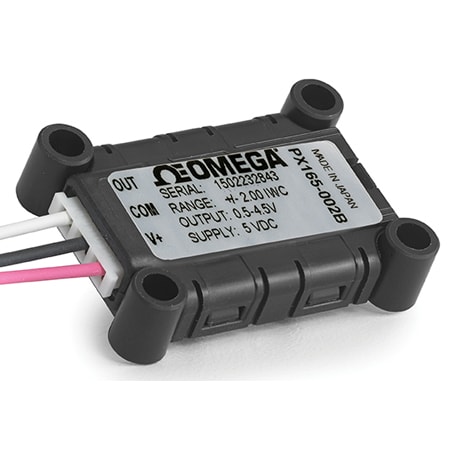 Low Pressure Differential Transducer

High vibration environments favor smaller un-amplified traducers. The transducer housing should be selected to meet both the electrical area classification and the corrosion requirements of the particular installation.

Corrosion protection must be taken into account; both splashing of corrosive liquids or exposure to corrosive gases on the outside of the housing. If the installation is in an area where explosive vapors may be present, the transducer or transmitter and its power supply must be suitable for these environments.

This is usually achieved either by placing them inside purged or explosion-proof housings, or by using intrinsically safe designs. If compact size is required an unamplified transducer is best.
5. Accuracy
Pressure gauges come in many different accuracies. Accuracy of common pressure transducers could range from 0.5% to 0.05 % of the full-scale output. Higher accuracies are desired when it is necessary to read very low pressures for critically demanding applications.
6. Output
There are several types of outputs for pressure transducers. These include: ratiometric, mV/V output, amplified voltage output, mA output, and digital outputs like USBH. More details on each type of output can be found here . In general, it is important to consider the constraints and benefits of each output to determine the best output type for your application.