The Termination
Probes may be terminated in a connection head, quick disconnect, terminal block, or extension wire. OMEGA's standard terminations are pictured on product pages. Other termination styles are available upon special request. For something other than standard products, please contact our sales team to submit a full description and/or sketch of your desired version.
The Lead Wire
Lead styles are offered in one of four configurations (see diagrams at the side of this page). Style 2 is OMEGA's standard. Be sure to select the configuration that is compatible with your instrumentation.
The Sheath
The sheath, a closed end tube, immobilizes the element, protecting it against moisture and the environment to be measured. The sheath also provides protection and stability to the transition lead wires from the fragile element wires. OMEGA's standard sheaths are 3 mm (1/8") and 6 mm (1/4") O. D. 304 stainless steel tubes. Other O.D.'s and materials are available upon request.
The Element
The standard OMEGA® RTD probe is made with a 100 ohm platinum European curve element (á = 0.00385).
Temperature Rating
OMEGA's "PR" style RTD probe assemblies are rated for use in temperatures up to 600°C (1110°F). The "PRTF" style probes are rated up to 260 or 500ºC depending on construction Temperature limitations may be placed on termination styles due to the wire insulation used. The maximum temperature rating available on special order is 750°C (1380°F). If probe is intended for high temperature use, please request a quotation.

OMEGA stocks a broad line of RTD probes for immediate delivery. Many special assembly probes are available for shipment within two weeks of receipt of your order. Please consult Sales Department for further details on your special needs.
Definition of RTD Probe Part Number

Type: Select style PR- or PRTF-10, -11, -12, -13, -14, -15, -16, -17, -18, -19.
Lead Configuration: Specify 1, 2, 3, or 4. Style 2 is standard.
Resistance: 100 ohms is standard. 50, 200, 500, 1000, or 2000 ohms are available, usually with two-week delivery.
Sheath Diameter: 1.5 mm (1/16"), 3 mm (1/8"), 4.5 mm (3/16"), 6.0 mm (1/4"), and 8.0 mm (5/16") are available. 3 mm (1/8") and 6 mm (1/4") O.D. probes are stocked for off-the-shelf delivery.
Sheath Length: There is no upper limit on sheath length. The minimum practical length is 2 inches.
Curve: European (E): α = 0.00385 ohms/ohm/°C, American
(A): α = 0.00392 ohms/ohm/°C
Lead Configurations of RTD Probes
Lead configuration 1 provides one connection to each end of the sensor. This construction is suitable where the resistance of the run of lead wire may be considered as an additive constant in the circuit, and particularly where the changes in lead resistance due to ambient temperature changes can be ignored.

Note: The resistance of probe and extension is added to the sensor resistance and will increase the measured value.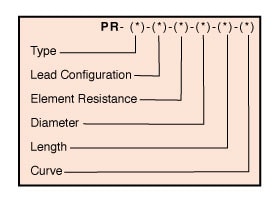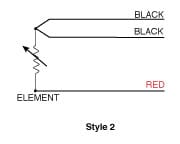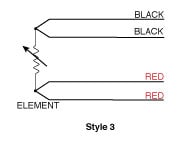 Lead configuration 2 (Standard) provides one connection to one end and two to the other end of the sensor. Connected to an instrument designed to accept three-wire input, compensation is achieved for lead resistance and temperature change in lead resistance. This is the most commonly used configuration.
Lead configuration 3 provides two connections to each end of the sensor. This construction is used for measurements of the highest precision.
Lead configuration 4 is similar to Lead Configuration 3 except that a separate pair of wires is provided as a loop to provide compensation for lead resistance and ambient temperature changes in lead resistance.
When accuracy over a wide temperature range is a crucial factor in industry, OMEGA's platinum Resistance Temperature Detectors (RTD's) are unequalled in performance. Stability over long periods of continued use makes them unmatched for reliability. Precision materials and workmanship make them highly interchangeable for easy replacement without calibration.

Definition A resistance temperature detector operates on the principle of the change in electrical resistance in wire as a function of temperature.

Element or Probe? A common source of confusion is the distinction between an element and a probe.

The Element An element is the actual temperature sensing unit. OMEGA features two styles of elements: wire wound and thin film.

Wire Wound Wire wound RTD elements used are made of 99.99% pure platinum wire wound about a ceramic or glass core and hermetically sealed within a ceramic or glass capsule. Platinum wire was chosen because it best meets the needs of precision thermometry. It resists contamination and is mechanically and electrically stable. Extension leads are attached by welding at OMEGA or by the end user. These RTD's provide close interchangeability between elements with negligible drift and error with age. On special request, OMEGA can make RTD probes with other wire materials. The probes are available conforming to the following two curves: European (E) α = 0.00385 ohms/ohm/°C or American (A) α = 0.00392 ohms/ohm/°C.

Standard OMEGA® probes conform to the European (E) curve. When you order, specify an "A" suffix instead of "E" if the American curve is desired. The calibration of all "E" elements meets "0. 1% DIN" standard tolerance and conforms to the DIN 43760 standard, shown in the table.

Thin Film Made by depositing platinum as a film on a substrate and then encapsulating both. This method allows for the production of small, fast response, accurate sensors. Thin film elements also conform to the IEC60751 curve.
Platinum Resistance Elements
Allowable Deviation from Calibration Values

| | | | | | |
| --- | --- | --- | --- | --- | --- |
| Temperature | Ohms | Deviation Degrees | Temperature | Ohms | Deviation Degrees |
Wire Wound Element Model Numbers
Example: 2PT100G3550
2 2 windings (double resistance element)
PT Platinum wire
100 Resistance in ohms at 0°C
G Glass core
35 Length of element in mm
50 This value divided by 10 gives element diameter in mm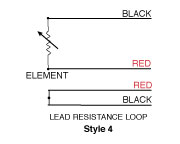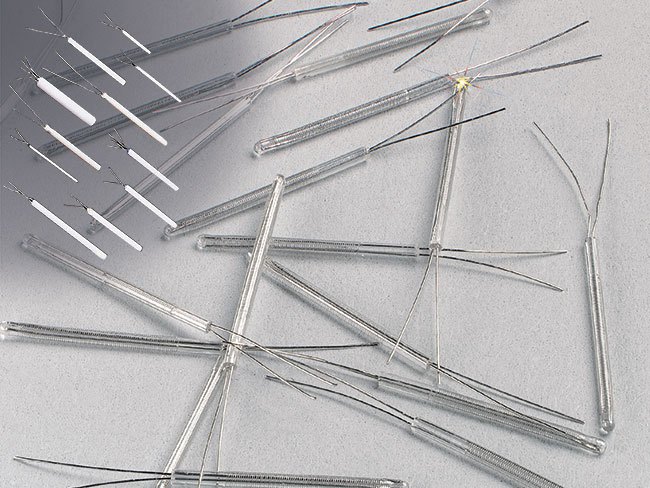 KN Series ceramic wire wound platinum RTD elements.

Recommended Temperature Application Ranges-Platinum RTD Elements